THE BRAIN AND NERVOUS SYSTEM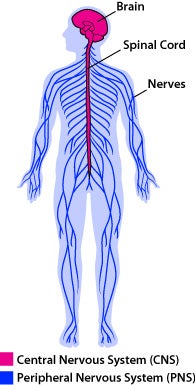 THE BASICS
The brain and central nervous system controls your senses, movement, and bloodflow. This system senses activity outside and inside your body.
The brain is made up of:
- Nerve cells known as neurons: transmit and gather electrochemical signals that are communicated via a network of millions of nerve fibers called dendrites and axons
- Cerebrum: the largest part of the brain, accounting 85 percent of the organ's weight; deals with thought processes and movement; divided into four lobes having the functions: personality, movement, touch, and making connections
- At the rear of the brain are the occipital lobes, dealing with vision
- Lastly, there are the temporal lobes, which are involved with hearing and memory
The central nervous system is made up of:
- Brain: interprets what you see, hear, smell, taste and touch, and sends messages to other parts of the body
- Spinal cord: a column of nerve cells down your back that carries messages to and from your brain and the rest of your body
The peripheral nervous system is made up of:
- Nerve fibers: connect the central nervous system to the limbs and organs
INTERACTIONS WITH OTHER SYSTEMS
The nervous system interacts with every other system in the body. All of the organs and tissues require instruction and directions from the nervous system. There is also interaction with the muscles and the nervous system, which helps you move around and interact with the environment. The digestive and excretory systems work with the nervous system, by telling you to eat.
ANALOGY
The brain and nervous system is like the boss of a company. In a business meeting, the boss tells his employees what to do, just like how the brain tells the body what to do. Then his employees tell their workers to do another job, just like how the spinal cord sends messages to other parts of the body. The nerve fibers are the employees sending messages to the people that need to do the job.
SOURCES
- http://www.childrensuniversity.manchester.ac.uk/interactives/science/brainandsenses/brain/
- http://www.biology4kids.com/files/systems_nervous.html
- http://www.nationalgeographic.com/science/health-and-human-body/human-body/brain/
- https://www.reference.com/science/function-cerebrum-562bd647e3966765